1. Two persons are required to cooperate in the return of the suspended single hydraulic prop, one returning the prop and the other observing the top plate. When returning the column, work at a safe place where the support is intact. Clear the way out, lay a protective column, and inform other staff working around. When the pressure of large-area suspended roof and roof is too large, the column shall not be retracted manually. The column shall be retracted by winch at a long distance or by other safe means.
2. When the top plate of the hydraulic prop comes under pressure or encounters other dangerous situations, stop pulling back the prop, and then pull back after treatment. When it is allowed to return the column by sections, the working spacing of sections shall not be less than the specified. Before returning the internal injection single hydraulic prop, check whether the surrounding roof and support are intact. If there are broken beams, missing columns and other unsafe factors, the prop can be returned after treatment.
3. A maintenance card shall be established during the maintenance of the suspended single hydraulic prop to record the prop number, maintenance date, fault, maintenance content, test condition, maintainer, etc. in detail. The mixed use of floating piston type and fixed piston type not only makes the bearing capacity distribution reasonable, but also solves the problem of liquid injection height of large and large stroke pillars. The hydraulic prop is injected with liquid on the outer guide sleeve of the first stage working cylinder, and there is no circumferential weld on the movable cylinder that is difficult to ensure by the process, so as to avoid the accident hidden danger of actual sealing performance of the prop due to weld leakage or fracture damage.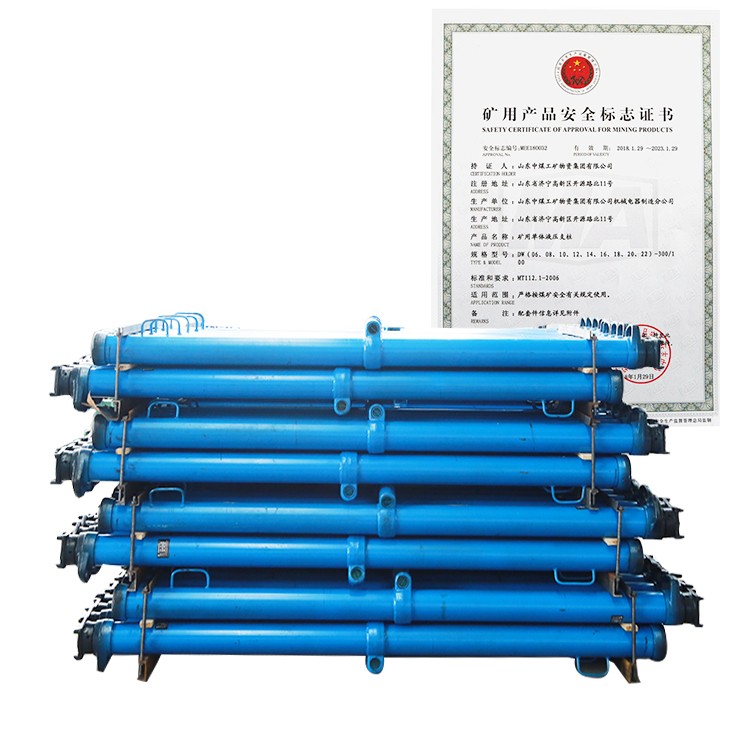 Application scope of suspended single hydraulic prop
It is applicable to the mining face of inclined coal seams with a coal seam dip angle of less than 25 ° --35 °. The conditions of the coal seam roof and floor are: the backwardness of the roof does not affect the recovery of the pillars, the floor should not be too soft, and the depth of the pillars pressed into the floor does not deteriorate the integrity of the floor, otherwise the base should be increased. When it is used in the blasting mining face with soft coal, protective measures shall be taken for the coating surface of the live column to prevent collapse. When the pillar is used in combination with the wooden top beam or as a point column, the top cover shall be replaced with a column cap to avoid damaging the wooden beam.