The following is about the knowledge of the injection-type hydraulic prop. Are you ready to listen? Let's take a look at the working effect of the internal injection single hydraulic prop.
1. The internal injection hydraulic prop resistance tester is an instrument for detecting the initial support force (working resistance) of single hydraulic prop. Therefore, the specifications of the three-way valve shall be stated in advance when ordering (such as whether it is the anti-flight safety three-way valve, etc.);
2. Before the internal injection single hydraulic prop is officially put into use, the overall appearance shall be inspected, and then in order to completely eliminate the gas in the cylinder barrel, it is necessary to carry out a lift within the stroke, and at the same time, it is necessary to ensure that the injected emulsion does not contain impurities, so as to extend the life of the cylinder barrel and ensure the construction effect. In addition, semi-flowing sealing fluid shall be applied to the sealing part before placement to improve the sealing performance of the sealing ring and prevent gas and liquid leakage. Before liquid injection, the three-way valve shall be flushed, and then the liquid injection gun shall be inserted and the gun sleeve shall be fastened to carry out liquid injection and column lifting. Proper use of single hydraulic prop will greatly help to prolong its service life.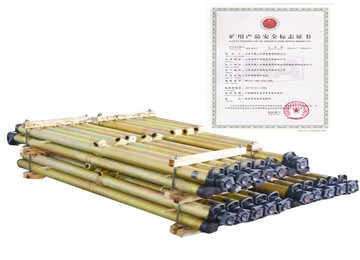 3. One of the possible reasons for the failure of the injection-type single hydraulic prop is that the flat washer at the muzzle is too tight with the ejector pin. The pressure bar can be pressed repeatedly until the pressure gauge shows the pressure. Do not use too much force when rotating the pressure bar (only slightly) to avoid damaging the pressure bar; The gauge head and needle do not return to the zero position, which does not affect the measurement accuracy. This is mainly caused by the liquid swelling force in the body; The thimble should be removed and greased regularly to prevent corrosion.
3. After the top plate is braced by the injection-type single hydraulic prop, the air in the lower cavity shall be discharged by the unloading handle, and then the top plate shall be refilled with liquid until the initial support force is reached to ensure its support effect. Select and adjust the rated working pressure of the three-way valve in strict accordance with the technical characteristics of the single hydraulic prop. Columns of different specifications and models shall be equipped with appropriate three-way valves.